A new bill that has been proposed by Virginia Delegate John J. Bell, who is a Democrat from Chantilly, would outlaw the tethering of dogs and other companion animals outdoors. The bill cites the sometimes extreme and unpredictable weather that exists in the state as its reasoning.
If House Bill 1802 passes the General Assembly, animal owners and others will only be able to tether pets outdoors if they themselves are outside and are within sight of the animals.
Bell said that he became motivated to write the bill because of his wife, whose work includes fostering and rescuing mistreated dogs. He says that, over the last 7 or 8 years, his wife has fostered 50 dogs. He further says that the two many times have seen animals tethered outside for long periods of time in extreme and harsh weather conditions, both hot and cold, without anyone attending to their needs.
Bell mentioned one case in particular that made its way through the courts. In this case, he and his wife fostered a dog that the authorities had removed from its original owners. He says that the dog was "at death's door" because of the way it had been tethered, and because of this he feels that tethering of animals outside for long amounts of time in bad weather was cruel and should not be tolerated by society.
The bill would charge anyone who violates its provisions with a Class 4 misdemeanor, which could be punishable upon conviction by a $250 fine for the first offense. Those who violate the bill's provisions more than once could be subject to a Class 3 misdemeanor, which could be punishable by a $500 fine upon conviction.
House Bill 1802 would effectively amend the Code of Virginia, specifically Section 3.2-6503 of it, which relates to the care of companion animals. Currently, this code requires owners of companion animals to provide a sufficient amount of food and water, a properly clean shelter, enough living space for the type of animal in question and veterinary care whenever it is needed.
The bill's provisions would apply to more than just owners of companion animals. They would apply as well to the following type of organizations: private and public animal shelters, pet stores, animal dealers, kennels, animal exhibitors, animals boarders and groomers.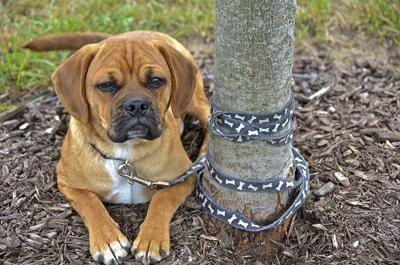 While most cities in Virginia currently allow pet owners to tether their animals outside, the city of Richmond and some other cities in the state have banned the practice.
Robin Robertson Starr, who is the CEO of the Richmond chapter of the SPCA, says that the tethering of dogs outdoors is a significant problem in the state. She believes that it is not only bad for the dog but that it could also create a dangerous situation for humans as well. This is because, according to her, tethered dogs become territorial and aggressive.
Starr thinks that dogs should be living with humans inside their homes, and they should only go outside for short periods of time in order to relieve themselves and get some exercise. She calls leaving dogs outside a "tragedy," especially as they are very social animals who are capable of interacting with humans in a loving manner.
At the moment, House Bill 1802 is being reviewed by a subcommittee of the state's General Assembly, specially the Agriculture Subcommittee of the House Agriculture, Chesapeake and Natural Resources Committee. The subcommittee will soon hold a public hearing relating to the bill at the General Assembly Building's west conference room, which is located on the 7th floor. The address of the building is 201 N. Ninth Street, Richmond.
Visit https://tidewaternews.com for more breaking news.