Last year's rebranding of Franklin's sole airport is proving to be a smart move. The airport board changed its name from Franklin Municipal Airport/John Beverly Rose Airport to Franklin Regional Airport in September 2018 to better characterize the facility has a larger presence in the area.
Airport manager Jimmy Gray said the initial cost of the change was only $2,400 with the money paying for changing the sign at the intersection of John Beverly Rose Drive and Carrsville Highway, also known as Business Route 58.
Gray said the new name better illustrates the increasing business centering around the airport.
"A lot more goes on here than people realize," Gray said. He said there is a good bit of corporate traffic that utilize the airport.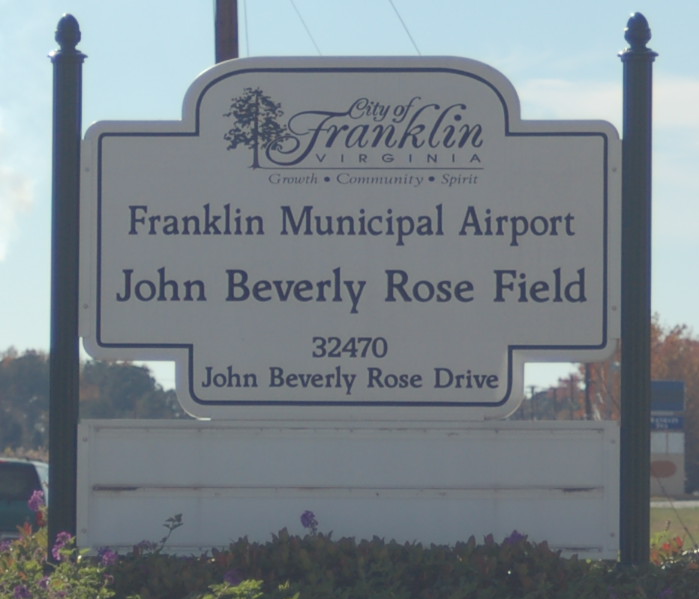 The airport board hoped the name change would encourage more corporate traffic. A year later, it appears business is thriving at the facility. There are 16 aircraft based on the field, and 15 single-engine planes and one ultra light are housed at the airport.
Airport traffic operations includes an average of 79 flights a week. Forty percent are transient general aviation while 39 percent are local general aviation. It may be surprising to some that 21 percent of aviation at the Franklin airport is military use and 1 percent is used by air taxis.
The name change also puts the airport in a larger bid for traffic against other nearby airports. Other airports, like Norfolk International Airport and Newport News/Williamsburg International Airport are larger, but are located between 50 and 65 miles away. That positions Franklin Regional Airport to be a great alternative to companies needing closer access.
Franklin has a great opportunity for increased airport traffic. There are more than 1,600 companies in Franklin with businesses in many different industries from medical, to contractors and professional services like attorneys and accounting. That is a heavy business component for a town with 8,582 residents.
Since the two major industries are agriculture and manufacturing, officials believe there are ample growth opportunities in aviation to promote those two sectors. Although the 2010 closing of International Paper hit the community hard, the rebounding of the factory producing fluff pulp and the addition of Enviva Southampton has spurred growth in the area.

One of the considerations of changing the name was how to continue honoring Carrsville resident John Beverly Rose, an Army helicopter pilot killed in a June 29, 1964, helicopter crash. The Rose name has always been a part of the airport identity, but will not be included in the new name.
Gray said it isn't decided whether new signage would include the Rose name. There are discussions of creating a memorial to Rose near the terminal building, but plans are not finalized. Gray said the board will seek a proper way to honor the pilot even though his name is no longer part of the airport's branded identity.
The airport has amenities for pilots and those flying. It has a conference room that fits up to 30 people, so it makes the perfect spot to have a pre-flight or post-flight meeting for corporate officers on the go.
The airport also has courtesy transportation and a courtesy car for those flying in, airport parking, passenger terminal and lounge, pilot lounge and even a shower along with restrooms. It also boasts a WSI weather system so those traveling can keep track of weather changes.
For those wanting flying lessons or other services, the Franklin Regional Airport offers those services for a fee. Fee-based services includes hangers, flight school and flight training, aircraft rental, and two aircraft maintenance facilities.
Visit https://tidewaternews.com for more breaking news.