For anyone who has cancer and been undergoing chemotherapy or radiation treatments, you know how difficult the journey can be. When hair loss is a common side effect of the treatments, it can be emotionally upsetting, but one Walters resident has found a way to "chill out" and save her crowning glory.
Barbara Herrala has been wearing an Arctic Cold Cap to prevent the chemo treatments from damaging her hair follicles. The head coverings were developed to constrict the blood vessels in the scalp and protect hair strands. The cap is stored in a container with dry ice to maintain its coolness.
Herrala has been undergoing chemo for breast cancer at the Virginia Oncology Associates wing in Sentara Obici Hospital. She recently arrived with her husband Ted for her final dose and last time wearing an Arctic Cold Cap, and she's smiling from ear to ear.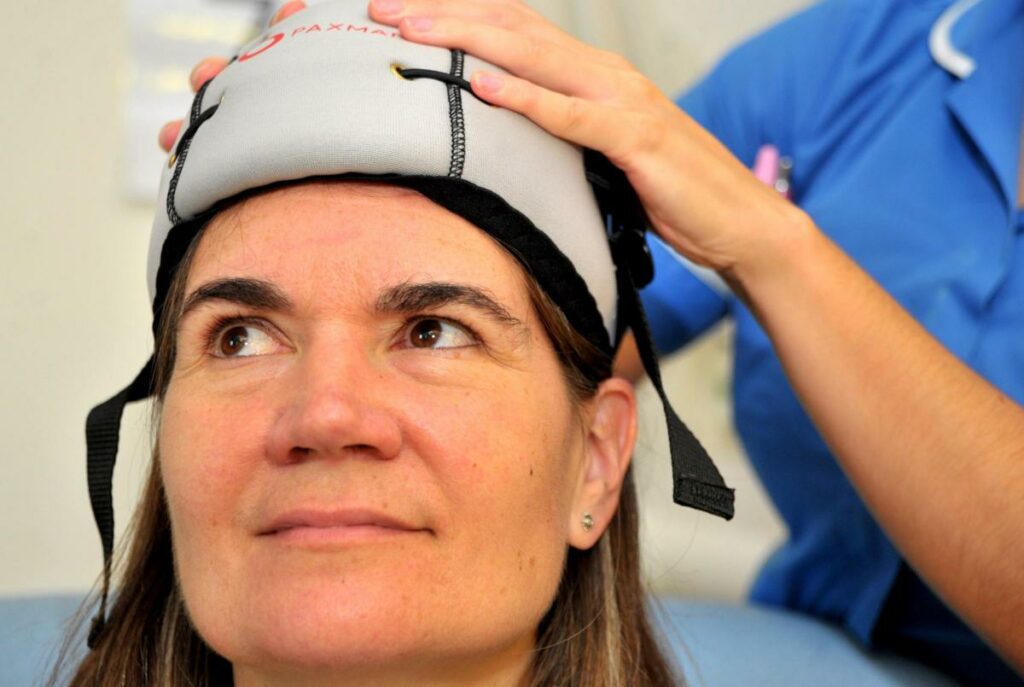 The 68-year-old patient and former schoolteacher is happy to show off her locks after five chemo treatments. It looks like her hair except there is a little thinning at the crown, but other than that minor detail and some shedding, Herrala is very pleased. Keeping her hair wasn't the most essential aspect during her journey, but it's given her a sense of empowerment.
It's quite cold when the chemo cap is worn by a patient, so extra-warm, cozy garments are layered, and that's what Herrala did by putting on pretty pink scarves and blankets.
For Herrala, the cancer diagnosis came as a bit of a surprise. She had kept to her yearly mammogram scheduled in June of 2015. By November, however, she had felt something in her left breast that initially gave her pause.
During a self-examination, she discovered a lump but figured that it was more likely a benign cyst. Non-cancerous cysts are something she says runs in her family DNA. She wasn't too worried about it but still scheduled a visit to the doctor in February.
A biopsy was performed by Sentara Obici's Dr. Brian King. That test was not benign and came back positive. A lumpectomy followed in late April and then, surgery to remove the lump from her left breast. In addition, four lymph nodes were taken out.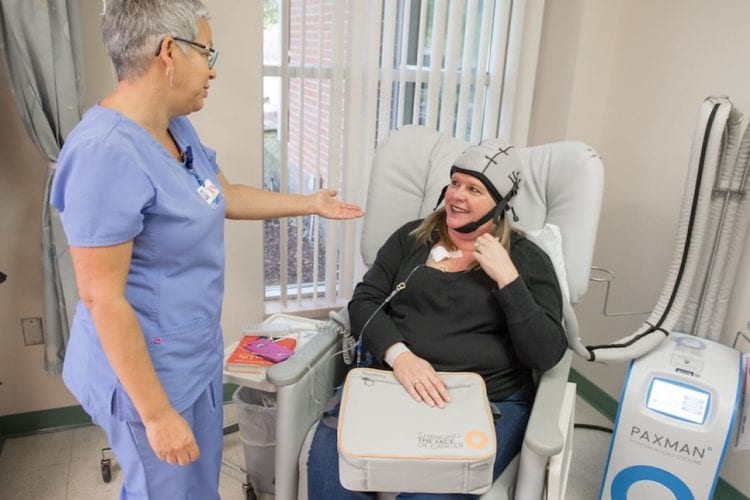 Herrala underwent genetic testing, too, and it was discovered that there was a prominence of cancer found on her father's side of the family.
If that weren't all heartbreaking enough, she had also developed Paget's disease of the breast. All of Herrala's breast tissue needed to be removed, so she had a mastectomy. Also, six lymph nodes were removed because one of the nodes had come back with a positive result.
Herrala was very frightened when the word "chemotherapy" was presented to her. She began researching the treatments and new breakthroughs where a person's hair can be saved during chemo dosing.
That eventually led her to Arctic Cold Caps and an organization called The Rapunzel Project that assists women during treatment to protect their hair follicles from damage.
She learned that there were several companies that offered cold caps for chemotherapy patients. Herrala and Ted decided to go with the Arctic Cold Cap company.
The caps are not perfect and not for every patient, but for Barbara Herrala, it's been an incredible option. She didn't go bald or have to wear a turban or wig, and that was good enough for her.
Lots of dry ice, up to 50 pounds or more, is required when putting on a cold cap. Roberts Oxygen in Portsmouth has been Herrala's go-to company.
Her friend and former colleague, Mary Ann Riddick, calls Barbara Herrala "an inspiration."
Visit https://tidewaternews.com for more breaking news.