Gymnast Simone Biles, 22, of Texas, led the United States women's gymnastics team to their fifth consecutive world title in Stuttgart, Germany on Tuesday. The team scored an impressive 172.330 points during the event. Second and third places were taken by Russia and Italy.
Ms. Biles scored the event's highest individual points in the balance beam, floor exercise and vault events. The team's gold medal represented Biles' 21st medal, making her the current record holder for the most medals won by a single gymnast in women's gymnastics history. Biles was previously tied for the world record held by Russian women's gymnast Svetlana Khorkina.
Biles has also bested the world record for amassing the most gold medals in a world championship event, for a grand total of fifteen medals. Biles is now only three medals away from overtaking the reigning all-time world-medals champion, Belarusian, Vitaly Scherbo.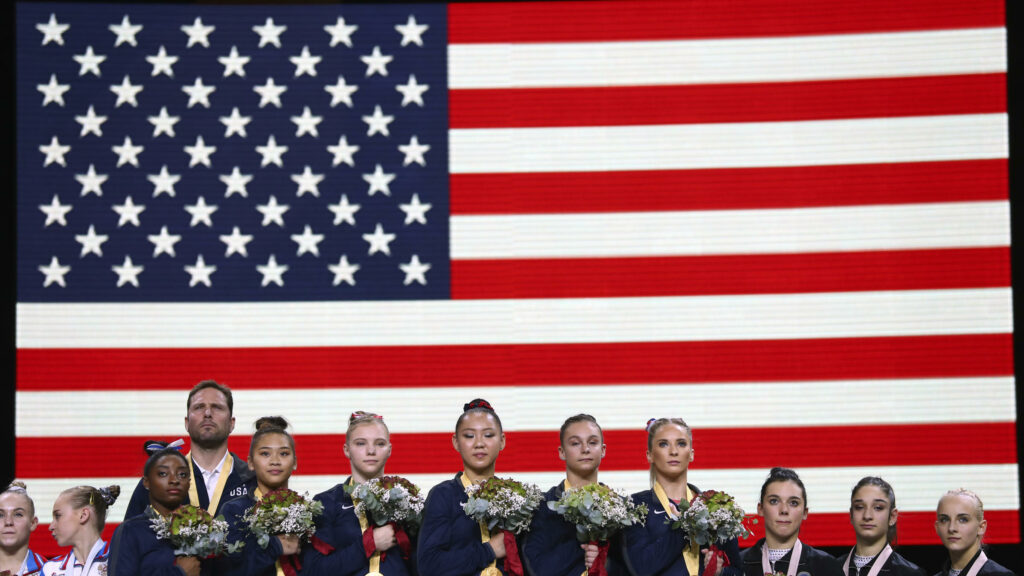 "I think it's really impressive for someone to be able to do that," Biles told reporters when asked about her achievements. "It's kind of exhilarating but I think I haven't had the chance to process it yet. I think we're celebrating tonight, for all of this: for the team, for the medal count, for the fifth year in a row."
Both Biles' team pride and personal pride is warranted. She currently has four unique gymnastic moves named after her. Two of those signature moves were accomplished during her 2019 event performances.
Ms. Biles was the first-ever gymnast to land a triple-double in the floor exercise event. The double backflip with three twists dismount is now known as the "Biles II."
The first move to be named after Biles, the "Biles," was created for her balance beam routine. The double-twisting, double-backflip dismount, when performed properly, is worth 0.8 points. Though Team USA and Biles have both expressed disappointment with the low point assignment given to a move that was once deemed nearly impossible, the FIC Committee defended their point value assignment on the grounds of future athlete safety. They felt the point value they'd awarded the Biles would stand as a deterrent to prevent less accomplished gymnasts from attempting the maneuver.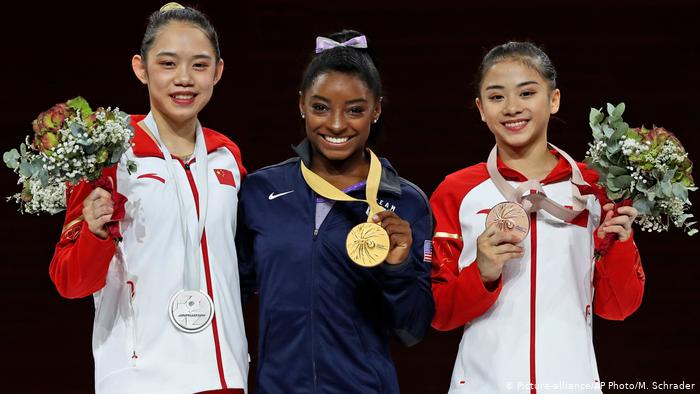 Biles says she did consider not going through with performing the difficult move. "Why go through all that effort to do something so hard when it's not going to be properly recognized?" In the end, she decided to keep the move in her routine. She's said quite a few times that she doesn't compete in gymnastics for the medals or the titles. She's already won plenty. She competes, she says, to see how far she can push herself.
Despite the young gymnast's fast-growing list of accomplishments, she remains both a vocal advocate and role model for team spirit. Despite some of the competing teams having suffered a few falls, she expressed her happiness with both TEAM USA's and the competing teams' overall performances. Ms. Biles was quoted by the New York times as saying, "all of the teams have improved their difficulty over the last quad, and I think that's really exciting to see the strength that they have."
When the diminutive 4'8″ daredevil was asked what comes next, she said she was busy preparing for the 2020 Summer Women's Gymnastics Olympic Event in Tokyo. Sadly, she's also reported the event will be her last Olympic competition. "I definitely plan for the Tokyo Olympics to be my last," she told CNN's sports reporter, Patrick Snell. "I feel like my body's gone through a lot and is actually falling apart. Not that you can tell it, but I feel it a lot of the time."
Visit https://tidewaternews.com for more breaking news.