A Enviva company official took aim at those claiming the Southampton wood pellet production facility is polluting.
The company's vice president of environmental affairs and chief compliance officer Yana Kravtsova refuted published allegations of pollution. Kravtsova said the Southampton plant has "never received a notice of violation for the facility."
Kravtsova said the company has always abided by state and federal laws regarding emissions and pollution, adding that Southampton started with an emphasis on compliance from its first day. The company official said environmental stewardship is at the core of Enviva's business model. Changes made during the expansion will improve the plant's ability to provide a clean environment and product, according to Kravtsova.
"After the currently-proposed permit is issued and the control technology is installed, Southampton will be among the most, stringently-controlled wood pellet manufacturing facilities in the world," Kravtsova said.
Enviva Southampton got a reprieve on state pollution testing until its expansion is completed.
An Aug. 1 letter from Michael Dowd, DEQ's Air and Renewable Energy Division, suspended the Southampton plant from mandates stipulated in a June letter. Royal Smith, Enviva Southampton's executive vice president of operations, responded to the June letter stating the DEQ set forth a "schedule for submitting a test protocol, and performing emissions testing, that is impossible for Enviva to meet."
Smith also stated the company had expansion plans set before the June letter. Those plans include installing new emission controls, which also adds a regenerative thermal oxidizer (RTO) to a dryer.
State officials confirmed the company asked for a delay in testing, especially HAP testing, until additional controls were installed.
Enviva sent a letter Sept. 12 to the DEQ thanking the agency for help during the permitting process and for reporting minimal impacts left by Hurricane Dorian.
The latest letter exchange is part of its air permit application to the Virginia DEQ. The application seeks modifying the company's air permit for production capacity increase and additional air pollution control systems.
Another change is the company using more softwood than hardwood. Officials said softwood is more efficient and dense, making it a better environmental choice.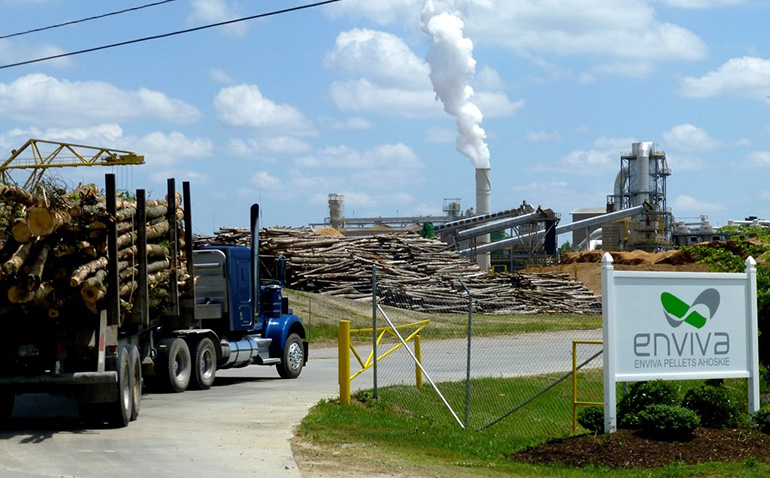 DEQ states the resulting air quality is expected to meet all federal and state standards once the application is approved.
The Southampton plant remains in compliance under its 2015 air quality permit, according to Maria Moreno, Enviva Partners LP spokeswoman. The 2015 permit includes stack testing for air emissions. She said the most recent compliance report from stack testing done last April shows the Southampton plant is in full compliance of the 2015 permit.
Officials said the April testing was to uncover any current problems. Testing would have occurred even if the company wasn't planning an expansion, according to officials.
Details of the testing were clarified by Tamera Thompson, DEQ Office of Air Permit Programs manager. Thompson said that testing had focused on particulate matter and oxides and didn't include any HAPs and VOCs emissions.
Kravtsova said HAPs results are not required under the company's current air permit, but there was no reason to speculate that Enviva had exceeded those standards. He went on to state how the company's product helps the environment on a global scale. Kravtsova said wood pellets allow utility companies to transition away from coal without affecting their infrastructure.
"The wood pellets the Southampton plant produces are used as a drop-in substitute for coal by utilities around the world. Wood pellets have been found to reduce lifecycle greenhouse gas emission by roughly 85 percent and reduce the levels of sulfur, lead, arsenic and mercury that coal plants would otherwise have emitted to the atmosphere," Kravtsova said.
Visit https://tidewaternews.com for more breaking news.