Go See the Mouse
Depending on the age of your children, you will need to take a trip to Orlando. It's about two hours from Tampa to Orlando. To avoid spending too many days with Mickey and Goofy, consider getting there early on just one day and spend the day letting everyone ride everything for the day.
Of course, Disney World is amazing. However, an Orlando-based vacation can be both expensive and very child-centered. You may enjoy a more balanced vacation with more days in Tampa proper.
LegoLand!
All of your little builders (and your bigger builders as well) will love a trip to LegoLand. Like many of the child-centered travel features of Florida, you can make this location work well with just one day at LegoLand.
To avoid overwhelm, consider spacing out LegoLand with some time inside the quieter Glazer Children's Museum or the Florida Aquarium. You may also want to double pack a suitcase for souvenir collection to avoid crushing the ears from Orlando or the kits from Legoland.
Florida Aquarium
The waters around Florida are loaded with wildlife. If you have smaller people who are not confident swimming along the beach, consider a trip to the Florida Aquarium. Older children may enjoy time as a volunteer, caring for sea turtles and studying at the Coral Conservation Program.
It's easy to get loaded up on toys and thematic gear when on your family vacation. The Florida Aquarium is a great place to study the library and pick up some books. You can also study up before you get there by checking out the virtual learning options on their website.
Dinosaur World
You may not be in a good position to take the time to get to Orlando. No worries! Take a trip to Dinosaur World in Plant City. Not only will you and your children enjoy this experience, but this park is also open to the family dog!
You'll find animatronic dinosaurs, rides, and a climbing play space for children of all ages to burn off some energy and have some fun. There are also interactive features inside the display area that allow children to view fossils up close.
Take a Fishing Charter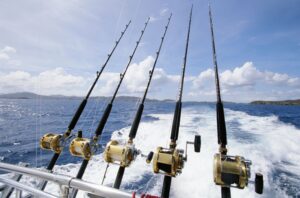 Treat older children to a long boat ride out into the bay on the best Tampa deep sea fishing charter! This may be the day to split the clan up a bit; not everyone is crazy about fishing or even being on a boat. Small children may not be intensely excited about being on a big boat.
That being said, a trip onto the blue waters off Tampa may be just what your older children need for a wonderful fishing trip. You will enjoy great expert help, quality gear, and guidance from a professional who truly knows the waters.
Salvador Dali Museum
The Salvador Dali Museum of Tampa offers free access for children 5 and under in timed visits. This museum is a proud member of the Museums for All program, a nationwide program that encourages families of all income levels to come check out the liquid clock.
If your little ones aren't quite able to manage time in an art museum, you can enjoy a lovely walk around the facility and visit the cafe for a nice lunch. This is a great day for you and your little ones to wind down just a bit from a day on the rides at one of the many amusement parks in the area.
Busch Gardens
If you love the great outdoors, exotic animals, beautiful landscaping and rides, you need to spend a day or two at Busch Gardens. You can
eat all day for one fee

go on a safari

take a wonderful rollercoaster ride

enjoy other rides for those who don't need the rush!
This facility allows you to buy family travel packages to customize your fun. For less than $90 per person, you can create a collection of activities that you and your family can enjoy all day long without having to stop, pull out cash, or buy tickets for the next event.
The Manatee Viewing Center
No matter how carefully you prepare, finding things that you can do for no or low cost can be a real treat. Plan a trip to the Manatee Viewing Center. You can bring a picnic, follow the habitat loop trail, check out the butterfly gardens, and learn more about protecting the manatee habitat.
Your trip to Tampa can include full days and quiet days. You can also just hang out on the beach. No matter what you plan to do, you can be confident that you can find fun activities for every member of your clan, including the dog, on your family vacation.