Getting a Passport can take FOREVER! Even with the current expedited process, it can take 5-7 weeks, but don't worry we have a solution.
In this post, we will show you how to get a passport in as little as 24 hours! That's right, with this little-known process you can get a passport in just 24 hours.
If you have some time take a look at our complete guide below. We also included another popular guide here on Expedited Passport Renewal – How To Get a Passport Fast (24 Hours)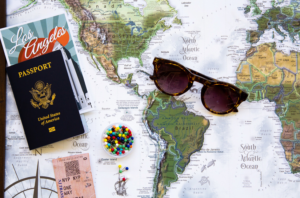 Before you book your ideal international trip, make sure that your passport is valid. One of your first concerns may be: How long does it take to acquire a passport? The procedure can now last up to 11 weeks, so you'll want to start planning ahead of time. (Changes in the precise time are frequent, so check the U.S. State Department website for the most up-to-date information.) We've gone through the new passport application procedure and outlined State Department regulations to assist you in obtaining your travel papers on time for your next trip.
The State Department advises applying four to six months before your travel date. If your passport is in good condition, was issued within the last 15 years (when you were 16 or older), and has your current name on it, you may renew it by mail. If you don't fulfill those requirements, you'll have to apply for a new passport in person. On the State Department's website, you'll discover all you need to know about required documentation, including passport photo requirements.
You'll have to complete the necessary paperwork, submit a photo, offer evidence of U.S. residency, present and provide a copy of your ID, and pay the application and execution fees in person at a passport acceptance agency. Then, you may check the status of your application on the Internet. To ensure that you receive your new passport as soon as possible, follow the directions carefully and complete all required fields to avoid delays.
How long does it take to get a passport?
Prior to the coronavirus outbreak, processing times typically ranged from four to eight weeks. It might take anything from a few days to three months to receive a passport nowadays. According to the State Department's website, standard processing might take up to 11 weeks from the day the application is received, while expedited processing may take up to seven weeks. If you have international travel plans within three days, you may get your passport expedited at a passport agency or center. These appointments are only available in specific cases. If your trip is in five to seven weeks, you may pay $60 (in addition to the standard application fee) and get USPS Priority Mail Express for faster delivery.
If a close family member is outside of the United States and is dying, has died, or has an emergency medical condition that threatens their life, you can call to book a session for an emergency life-or-death service within three business days. You may also schedule non-emergency urgent travel appointments at some passport agencies, but these are quite rare and must be made within three days of your international journey. Before making an international trip, we recommend having your new passport in hand, and utilizing these urgent appointments as a last resort, because they are not guaranteed. The State Department provides this information on its website. You may also find all of the phone numbers, requirements for documentation, and passport assistance centers on the site.
According to the State Department, you won't receive your passport any faster by using a courier service that offers expedited passport services for an (often considerable) fee.
Fastest Way To Get a Passport
The fastest way to get a US passport is to use a passport courier service. Courier firms, also known as "passport expediters," are commercial enterprises that can submit passport applications on behalf of customers.
Do you want to use a courier service? Here are a few things to keep in mind before doing so:
These businesses are not affiliated with the US Department of State.
You will want to find a company you trust to handle your personal documents
Courier services are not always free. For example, delivery services such as FedEx and UPS often charge extra fees.
A passport courier will hand-carry your documents to the passport agency on your behalf and then mail you the passport. How easy is that!
The Best Expedited Passport Courrier Service
We have searched the internet to compile a list of the best passport couriers online. We reached out to the top providers and analyzed their services, pricing, and customer service to bring you our favorite provider. The Passport Courier company that one across the board was RushMyPassport.com
Rush My Passport claims to be the #1 most trusted online U.S. Passport Courier Service. They have been featured on The Wall Street Journal and have a 4.3 / 5-star rating on Trustpilot with over 8500 reviews.
Their team of passport advisors will help you get your passport fast with their fees starting as low as $109 + government fees. You can click here to get the best available pricing on RushMyPassports service by visiting their official site.
We hope this guide was helpful and we wish you safe travels on your next dream vacation.
*We only recommend products we personally use and all opinions expressed are our own. This post may contain affiliate links that add no additional cost to you, and I may earn a commission. Please read our full policy for more info.