Most people probably aren't aware of this, but Virginia is alpaca-crazy with the beautiful creature. The state has more than 100 alpaca farms, and the United States has more than 150,000 alpacas.
If you've never been close to these amazing animals, now there's a wonderful event happening that is great for folks of all ages.
Cornerstone Farm Alpacas in Windsor will host its Shearing Day Open House, 9 a.m. to 2 p.m., Friday, April 8, at 26298 Spivey Town Road. The farm is located in the heart of Isle of Wight County in southeastern Virginia.
Visitors will see demonstrations of spinning, weaving and felting by the owners Daren and Chris Wingard. There will be plenty of craft items, concessions by Isle of Wight 4-H Club and music by local bluegrass/gospel band, Route 58.
The farm yarn/gift shop will also be open. Admission is $1. Children 4 and under get in free.
So what is an alpaca, you ask?
An alpaca is a long-haired animal related to the llama and is from South America. These animals are revered for their exceptional wool or fiber. The wool is very soft and very durable. National Geographic says that alpaca fur is the second strongest animal fiber after mohair.
It may sound hard to believe, but alpaca produce wool in 22 different shades. The special wool has often been called one of the world's greatest natural fibers.
Chris Wingard would like folks to see the beauty of the alpaca and its gentle personality and intelligence. Visitors will be able to pet the animals and get to feel the elegance of their fur wool fiber.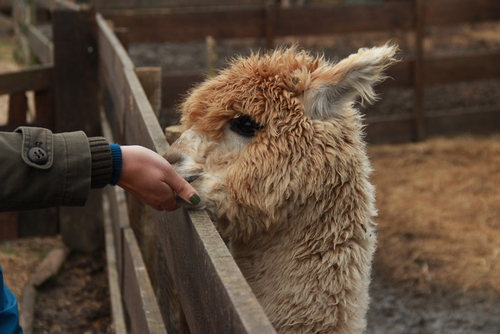 Wingard says that most people are surprised to find that the fiber feels as soft as cashmere. "Alpaca fiber is softer, stronger and warmer than wool," says Winguard.
Winguard says that the goal is to have enough alpacas to develop a national textile mill. The alpaca is easy to handle and train, according to experts.
Shearing an alpaca is important because this animal does not shed its fur. If its fur or fiber is not removed, the animal will overheat during the summer. Shearing keeps an alpaca comfortable and healthy. The practice is usually done once a year.
Do not be mistaken, however. Alpaca are not sheep and cannot be shorn in the same manner because its physical body is different than a sheep's. Shearing day at Cornerstone Farm Alpacas will be educational as visitors witness this interesting and normal animal care process and see how the wool or fiber is removed.
The Cornerstone Farms Alpaca website explains what the owners do with the animals, and it centers around the alpaca's fiber. "The leg and belly fiber is used for rugs, blankets or composting. The neck fiber can be used to make yarn, but it is primarily the blanket that we get our best yarn and roving from."
Cornerstone Farm Alpacas was founded in 2004. At the time, there were just three alpacas. The farm now has more than 40 alpacas and offers everything from the sale of natural alpaca yarn to educational farm tours to alpaca sales and breeding, consultation and informational presentations for local groups.
For those who want to start their own alpaca farm, Cornerstone will assist and help design a package that fits an individual's lifestyle and plans. For example, the animals are easy on the land, are clean and hardy creatures and disease-resistant. Those who raise alpaca call them a joy to be around.
To schedule a farm visit and to get directions, call (757) 651-6335. Or contact them at info(at) cornerstonefarmalpacas.com
Visit https://tidewaternews.com for more breaking news.