When you find that special someone, it is only natural to want to spend the rest of your life with them. Before that, you have to propose first. Deciding on a ring for when you pop the big question is an important life-changing decision. You will need to evaluate a few key details to find the perfect engagement ring for your fiancé. Some tips that will help you in picking out the best engagement ring possible include:
The Important Four Cs
The Four Cs stands for carat, color, clarity, and cut of the stone. These Four Cs are important because they determine the overall look of the ring. For an easier time when ring shopping, use the grading system as a guide rather than a restriction. Be specific on the carat size and cut of the facets, as this vastly affects the ring's price. Your budget can then determine the color and clarity you get. 
A colorless, flawless ring is pricier than an included, light yellow ring. We all have different preferences and tastes. Decide on what your to-be fiancé will want more in terms of color, clarity, carat size, and cut.
Metal, Band, and Setting
After picking the stone, you need to choose the right band to create the perfect ring. The metals you can choose from include platinum, rose gold, silver, white and yellow gold. If your partner likes a bit of color, you can go for a lovely rose gold metal that is way cheaper than platinum and is also very popular now. If you prefer a more traditional, less colorful ring, try getting the silver metal that looks like platinum and is not as heavy or costly.
The setting of a ring is the frame that highlights, protects, and holds the stone. Your partner's lifestyle can help guide you on the setting you can get. A partner with an active lifestyle or job would prefer a bezel setting instead of a prong setting. The wedding band needs to match the ring and not look out of place. You can visit a jewelry store in Dayton Ohio, to better clarify the setting and metal you desire.
Price, Warranty, and Certification
Engagement rings can be pretty expensive. This means you need to get value for your money. You can take out jewelry insurance to cover any loss, damages, or theft. Before you purchase the ring, check on the warranty and certificate. The American Gem Society (AGS) certificate will validate the stone's quality and ascertain that the ring you get matches the certificate. It is wise to shop with a budget in mind. 
Prices can spiral out of control, especially after all the details come together. You can let the jeweler know how much you are willing to spend so that they can show you your best options. To avoid the price mark-ups in retail stores, try shopping from a wholesaler to get lower prices. The prices are not always set in stone; this means that you can negotiate to get a great deal.
Measurements and Size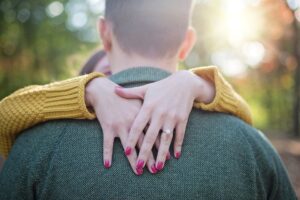 The size of the ring matters because you don't want a ring that is too tight or falls off your partner's finger all the time. Most proposals are a surprise. You may not want to ruin the surprise by asking your partner about their ring size. A clever, subtle way to know their ring size is by tracing the inner circle of the rings they already wear or making an impression on a bar of soap. A jeweler will have an easier time getting your spouse a better fit with a ring impression.
Customization and Shape
To make the ring feel extra unique and special, you can customize it. You can engrave it with a statement dear to both of you or your wedding date. Designing the ring yourself leaves a lot of room to be creative and customize the ring in a way that will stand out for your partner. 
Make an appointment at a jewelry store in Dayton Ohio, to find out how to bring your designs to life. Your partner will appreciate the work you put in. Designing the ring involves choosing the shape of the setting. You can choose from the common ones like pear, round and heart shapes. Customization is what will set your ring apart from the rest.
Jewelry Stores
There are a dime and a dozen jewelers you can work with. To find the jewelry store that gives you the best price and quality, window shop around and compare prices. Give yourself ample time to purchase the engagement ring to avoid settling on a ring that doesn't meet all your needs.
Proposals are a great milestone to some people, and the moment is forever engraved in their hearts and memories. The engagement ring will be the focus of this proposal. Getting the engagement ring right will be special for both you and your future spouse.