Keeping a home in good condition is very important if you want to sell it quickly. If your home looks great, potential buyers will take notice of that and be more likely to make an offer. Before you put your home on the market, you must take a look at how your home needs repair and make any necessary updates. If necessary, hire a professional to help you fix any issues with the home. The following are some of the repairs and updates that you may need to make before putting your home on the market.
Kitchen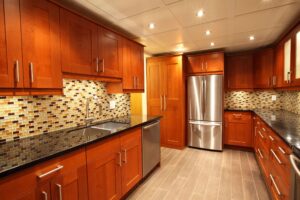 The kitchen is probably one of the most used rooms in a home. You must keep your kitchen looking great so that buyers can see the quality of your home. If you have tile or marble flooring in your kitchen, make sure that it looks great. You may need to get rid of some old appliances and replace them with newer models to keep your kitchen looking good.
When you are making updates to your kitchen, make sure that the appliances are updated as well. Some of the appliances that you may need to update are the refrigerator, stove, and oven. If you do not have any of these appliances, try to buy them before putting your home on the market. When you have updated appliances, your kitchen will look more appealing to potential buyers.
Pro Tip: Use a Property Management company to help keep your property in excellent condition.
Bathroom

The bathroom is a place where you will spend a lot of time during the day. This room must look good and clean, so potential buyers can see how well this home has been maintained. When the bathroom is messy, it can make the whole house look dirty. You will need to get rid of all the clutter in your bathroom and make sure that it is organized. For example, have a place for your toiletries, towels, and razors.
A professional can help you fix any issues with the bathroom, such as stained or cracked tiles, mold on tiles, or broken fixtures for toilets and showers. Any potential buyer will want to see that the bathroom is in good condition before they can make an offer on the home.
Roofs and Gutters

There are plenty of things that can ruin your roof and gutter. A leaky roof or gutter can cause water damage to your home's interior. Make sure that they are fixed before you put your home on the market so that it looks great and buyers will be more likely to make an offer. Also, make sure there are no holes in your roof or gutters; otherwise, stormwater could enter your home and cause damage. Hire a professional if necessary.
Repaint the Interior of Your Home

If you have wood paneling in your home, this needs to be painted. If your home is made of plaster, it needs to be sanded and painted. You also need to repaint all the walls if they are covered with wallpaper or other materials like paint. If you have carpeting in your home, it also needs to be removed and replaced with a new one that is smooth on top and has no rips or tears.
Furniture and Flooring

If your furniture or flooring needs repair or updating, get it done as soon as possible. When potential buyers look at a house they want to feel comfortable in it. The best way to do this is by having the right furniture and flooring in the right place. If your home doesn't have the right furniture, it will make it difficult for potential buyers to get comfortable. Potential buyers don't want to be uncomfortable and they will most likely move on to another house if they are not comfortable in yours.
Plumbing System
If your home has faulty plumbing, you'll want to have it fixed by Cincinnati plumbing contractors before putting your home on the market. This is because potential buyers may not be comfortable taking a shower or using the bathroom in your home because of the poor quality of the water supply. The water system in your home may also be outdated. This means that the pipes are old, and they may become blocked or leak.
Electrical Wiring

If you have faulty wiring, you'll want to have it fixed before putting your home on the market. This is because potential buyers may be afraid of touching things in the house and not knowing if they are safe or not. For safe wiring, you must get the wiring updated for the following:
New switches, outlets, and light fixtures.

New circuit breakers.

New wiring to every room in the house.
Exterior Paint

This is another area where you need to take care of before putting your home on the market. If the paint is peeling off from the exterior of your house, it will not look good when potential buyers come over for a tour. This could also mean that there could be termite or rodent infestation in your home, so you'll want to have this fixed.
Landscaping

If you don't have a well-maintained landscape, it will look messy and unkempt. You'll need to get rid of the weeds and dead plants around the house and replace them with fresh ones. Also, you'll need to dig a few holes in the garden and replace the soil.
When you are putting your home on the market, there are many things that you need to do before you make an offer to sell your home. By doing these things, you'll be able to make quick sales and go home with money in your pocket. Any
Dayton Ohio real estate agency
should be able to guide you on what things you need to fix.