Do you need a passport to go on a cruise? The short answer is that you require one, and the long answer is additional requirements.
Whether or not you need a passport depends on various criteria, including where you'll be boarding and disembarking the boat, where you'll be going, and which line you're sailing with. There's no simple solution for this — and it's hard to understand.
If you're considering a cruise and want to know where you can travel without a passport, you need all the information before departure.
Need an Expedited Passport? Learn how to get a passport fast on Mercurynews.com
Where can I go for a Cruise without having to produce a passport?
You have several cruise choices if you're a US citizen but don't have a passport.
U.S. citizens don't need a passport to go on "closed-loop" cruises with Celebrity Cruises, Norwegian Cruise Line, Carnival Cruise Line, Princess Cruises, etc.
From the United States, these cruises sail to locations in North America such as the Caribbean, Bahamas, Bermuda, Mexico, Central America, Alaska, and Hawaii on a round trip basis. They depart from Miami, Seattle, Los Angeles, Galveston, Texas, and New York City.
The laws also apply to American territories in the Caribbean, such as Puerto Rico and St. Thomas in the U.S. Virgin Islands. For example, you won't need a passport to fly into or cruise around San Juan, Puerto Rico, or St. Thomas in the US Virgin Islands.
However, it isn't the same as a closed-loop cruise if you sail from one US port to another and then back again. A passport is required, for example, for a cruise that starts in Miami and ends in San Diego. A passport is required for any cruise that goes around the world and returns to North or Central America, including longer cruises like grand voyages that sail round trip from the United States but visit foreign countries.
A passport is required for each cruise where you must fly to or from a foreign nation, including Canada.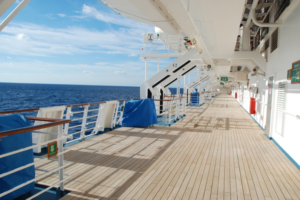 Is there a way to get around needing a passport on a closed-loop cruise?
Yes. You'll need a passport to enter even if you're visiting one of the Caribbean's many islands on a closed-loop sailing, such as Guadeloupe, Martinique, St. Barts, or Barbados. It's your duty (not that of the cruise line) to understand each destination's requirements before avoiding any issues.
If you don't have a passport and your ship visits one of these islands, you'll need to remain onboard if you want to cruise without a passport, select itineraries that will allow you to disembark and enjoy your day in port.
You can get off the ship in Vancouver, British Columbia, during an Alaska cruise without a passport, but you'll need to travel over into the Canadian province by rail. You may visit Alaska without a passport on a Seattle round-trip cruise. However, if you want to go on a White Pass & Yukon Route train journey excursion from Alaska into Canada, you'll need a passport.
Top Stories: https://www.tidewaternews.com/lifestyle/how-to-get-your-dog-to-listen-better/
Even when traveling with children, certain situations warrant a passport. Even if you're on a closed-loop cruise, Princess Cruises and Holland America demand that at least one parent have a passport. Regent Seven Seas Cruises, Azamara, Windstar Cruises, Silversea Cruises, Oceania Cruises, and Seabourn sailing lines require a passport for everyone, regardless of the itinerary.
What kind of ID do you need to bring on a closed-loop cruise aboard?
If you're cruising without a passport, the U.S. Customs and Border Protection agency says you'll need proof of identification and citizenship in the form of a state-issued birth certificate. A valid passport is also required, and a government-issued driver's license or a photo identification with your name and date of birth.
A passport card is another type of identification that travelers from Canada, Mexico, the Caribbean, and Bermuda can cross the border by land and sea.
An enhanced driver's license is another choice for land and seaport entries, but not for international trips.
If you don't have a passport, these documents may demonstrate customs officials in some Caribbean islands. For example, if you disembark in St. Maarten on the Dutch side and then go on a cruise to Anguilla, you'll need a passport, a certified birth certificate, photo ID, or a passport card enhanced driver's license. St. Martin does not require the papers, but Anguilla does.
To ensure you have the proper documents, it's a great idea to double-check with your country's immigration authorities before leaving. It's also a good idea to double-check with your country's immigration officials whether there are any other destinations that you can visit on a port call. They may need varying documents for access.
If you're traveling with children under the age of 16 on a closed-loop cruise, you'll need to provide a valid certified copy of their birth certificate for verification. They do not require a picture ID.
It's a good idea to make copies of any papers you bring (either paper ones or photographs on your phone) with you when you leave the ship, in case something goes wrong while you're ashore. When you go into port, keep some form of picture identification, such as a driver's license, on hand.
If I don't have my passport, what will happen in an emergency?
If you were forced to stop traveling due to an emergency or another cause in the Caribbean, Mexico, Central America, the Bahamas, Bermuda, or Canada and needed a passport, you would need one. A passport would also be required to return home in a ship evacuation or a transfer to another nation to disembark.
If you lose your passport but need one, go to the nearest U.S. embassy or consulate and request an emergency limited validity passport. The application process is straightforward. You must first explain you're urgent situation, complete an application, and provide travel papers, photo identification, and proof of citizenship.
You must also have a passport photo taken and pay the requisite costs. While this kind of passport might be issued in as little as a day, it may take up to a week to receive it.
Conclusion
Even on closed-loop cruises, when a passport isn't required, cruise lines urge that every passenger have one. The best manner to demonstrate your identification and citizenship is with a passport or official I.D. It's also an essential item if you find yourself stranded abroad unintentionally. It's also less of a headache to have the necessary papers and paperwork with you.
It's never too early to apply for a passport. A regular passport can take eight to eleven weeks (expedited wait times are five to seven weeks), so you should always prepare.
The cost of a first-time passport holder is $165, plus the photo fee; the high price is one of the reasons why many Americans choose not to obtain one. The good news is that an adult passport lasts ten years and allows you to travel to most nations without a visa.
While you may go on vacation without a passport, it's better to have one since it gives you peace of mind that should anything unexpected happen, you will be able to leave the ship and do whatever you want to do while away, as well as return home if necessary. You may still cruise if you don't have a passport, but you can only go on North American cruises from US departure ports.