Whether you are moving to the other side of town or to another state, the event can be stressful and exhausting. After all, you are packing up everything you own and relocating it to another house. More than that, you are re-establishing your daily life in a new and unfamiliar location. While you can expect to feel an element of stress during your move, you can minimize that stress by following a few thoughtful steps.
Start Packing Early
Chances are that you have more items stashed away in drawers, cabinets and closets than you think. It will take ample time to go through all of your belongings and to pack them in boxes. The best time to start packing is roughly four to eight weeks before your moving date. You understandably do not want to pack things that you use regularly. Instead, your initial efforts should focus on the items in the back of cabinets, on the upper shelves and in the back of our closet. As your moving day approaches, you can focus on items that may be used more frequently. For the items that you use daily, wait until the day before your move to pack them away.
Prioritize Your Boxes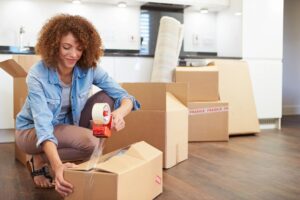 Imagine yourself on moving day standing in a new home filled with boxes. What will you unpack first? You can avoid this dilemma by properly labeling your boxes. All boxes should be labeled with the room where they belong. On the label, go a step further. Add a few details about what the box contains. For items that you need to unpack first, label these "Priority" so that they receive your attention first.
Sell or Donate Unwanted Items
As you start packing, you may come across items that you forgot you had or that you have not seen in years. These are items that you have lived without and that likely are no longer needed in your life. Rather than spend time packing these items now, moving them to the new home and unpacking them, consider getting rid of them. If they are in good condition, sell or donate the unwanted items. If they are no longer useful, toss them out. In addition, think about where items will go in your new house. Rather than move items that you will not have a place for, get rid of them before moving day.
Latest Post: Is your boyfriend cheating on you?
Hire Reputable Movers
You will have your hands full packing, unpacking, cleaning and tending to other essential tasks. Loading everything you own on a truck and following that up with unloading your belongings is physically draining. Your move will go smoother and faster if you hire professionals to do the heavy lifting for you. By doing so, you will have ample energy to unpack boxes and set up your new home once the truck is unloaded. Take time to research moving companies thoroughly. Ensure that you hire movers with great reviews and a reputation for being punctual and conscientious.
Plan Ahead for Kids and Pets
Have you thought about where your kids and pets will be on moving day? This will be a busy day with exterior doors open potentially for hours on end. People will be moving heavy items around. Kids and pets could wander out the door and may get underfoot. This can be dangerous for them and for the movers. One parent or a nearby friend or family member can be engaged to care for the kids and pets on moving day. Making this important arrangement upfront can pave the way for a smoother move overall.
Also see: https://www.tidewaternews.com/uncategorized/best-invisible-fences-for-dogs/
Make a Change of Address List
Many companies need to know where you live, including banks and financial institutions, insurance companies, utility providers, cell phone service providers and others. These are companies that may send you mail regularly or once in a blue moon. Before you move, make a list of all of the companies that you need to change your address with. As soon as possible after your move, contact these companies online or by phone to make the change. You may overlook a few companies, so always complete a change of address online with the post office as well.
Hire a Cleaner After You Move Out
The last thing that you may want to do on moving day after your old house is empty is to clean each room thoroughly. Move-out cleaning includes focusing on the interior of the fridge, the oven, the ceiling fans, the baseboards, the interior of cabinets and drawers and more. It can take hours to do a great job. Hiring a cleaner to do the work may be well worth the cost.
You can see that there is more involved in moving than packing boxes and loading a truck. By focusing your attention on each of these tips, you can avoid unnecessary stress and delays associated with your relocation.